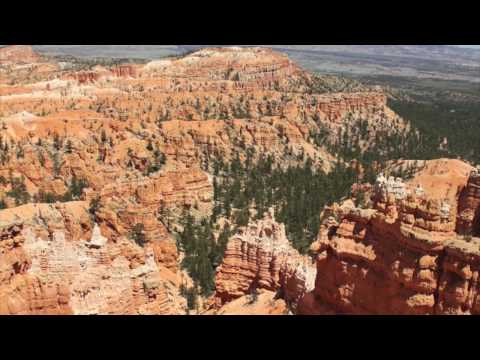 (If you do not see a YouTube video window above, go to:

Because my newlywed parents had loved living in Los Angeles back in the day, where my mom's siblings also lived and mine were born, that was a frequent destination. Sometimes we'd all go in the family car, and I can still recall in those days there was no speed limit outside of cities in Nevada, drivers would carry canvas water bags slung over their front bumpers in case radiators overheated, and some people would wait until nighttime before driving across the Mojave Desert.
I can also remember riding the Union Pacific's City of Los Angeles railroad liner from Salt Lake City to Los Angeles in, I think, 1956. My uncle, Wayland Hand — a professor of American folklore at UCLA, met us at the train station near downtown L.A. and shepherded us around, including a daytrip out to the one-year-old Disneyland in Anaheim…which otherwise, still had plenty of orange trees and strawberry patches.
Another time — I think my dad and brother had gone on his Matchless motorcycle to visit family in Nebraska, my mom, sister and I took a Greyhound bus and stayed with my Aunt "Ted" (Theodora Hand Smith), a Registered Nurse who lived in a small trailer house a few blocks from the Santa Monica pier. This was in the days when customers had to pay a nickel or a dime to unlock toilet stalls at the rest stops. In addition to playing on Muscle Beach, we also took a day-trip on the ferry to Catalina.
So, one of those childhood summers when a Kennecott Copper Mine strike seriously impacted my dad's work, we decided to vacation at Bryce Canyon — normally an easy day's drive from Salt Lake City. But we got a late start, and ended up camping in a field in Manti, with the lighted Manti Temple appearing as a beacon on a hill out of the darkness.
Bryce Canyon, simply unforgettable: The next day we experienced our first good impression of our destination in the aptly named, deep-hued Red Rock Canyon, which is located a few miles before the entrance to Bryce. We stopped to pose for a black-and-white picture by one of the impressive tunnels carved through the rocks. Unfortunately, my mom put her purse on a fender of our '52 Pontiac, and forgot to retrieve it before we drove on. [Our daughter, Sina, and grandson, Jordan, are pictured at right near the same spot.]
By the time she remembered and we returned, we couldn't find it, which put a damper on some aspects of the trip. (Although weeks later a kind lady from Texas, who had found it by the side of the road, sent it to her in the mail.)
The colors and shapes of Bryce were vivid then…and now — particularly the hoodoos, of which I'll comment on below. Over 1.3 million people a year are still drawn to this beautiful site each year— many of them from Europe, many of them on bus tours that include all the major canyonland national parks in the region.
One of the most obvious changes before peering into the painted canyon is Bryce Canyon City, which has grown up around the old Ruby's Inn and now includes all kinds of amenities, including the requisite RV park, lots of gift shops, a cowboy dinner theater, even a cemetery and a teepee campground — all apparently owned by the Syrret family, who somewhat similar to Jacob's Lake Inn near the North Rim of Grand Canyon started Ruby's Inn several generations ago. Contrary to what most might think, the Ruby in this case was not a woman but the nickname of Reuben Syrret, one of the founders.
While we have previously stayed at Ruby's Inn, this time we were graciously ensconced across the road in the very upscale, year-old Bryce Canyon Grand Hotel, which features a very fine buffet breakfast as part of the package.
The great natural beauty of Bryce lies a few miles down the road…and, once again, there are simply not enough adjectives to describe the colorful majesty of this natural wonder. What's particularly nice about Bryce is its easy access: One can practically drive right to the edge of the canyon, and then walk along the rim for miles, with the views changing at every turn.
How hoodoos: Sean Duffy, a 25-year National Park Service ranger who's been at Bryce for the past three summers, stood at the rim and explained that the name hoodoo, generically given to the many stone spires in the canyon, "is similar to the Caribbean word voodoo, and it's completely appropriate because a [Native American] Paiute story says that these were once people who were changed into stone by coyotes. Hoodoo, like its cousin voodoo, means to change or to cast a spell."
Duffy added that "three ingredients" created Bryce Canyon: "You need different kinds of layers of rocks — sandstone and limestone, that make up the hoodoos; and very soft mudstones and shales mixed up between them. You also need an earthquake; we're right at the edge of a fault. And the last ingredient: You have to be at the right elevation. We have 200 freeze-thaw days a year here, so moisture gets into the cracks created by the earthquakes, and when it freezes it expands, and slowly breaks and cracks the rocks apart."
"When you look down to the lower amphitheater, you won't see that many hoodoos down there, because it's warmer there most of the time. When you look at the same layer of rock across the valley, which is elevated over 10,000 feet, it's frozen most of the time; so we're in the middle here, in what I like to call the 'goldilocks' zone. It's that combination that creates all these fun shapes."
Pronghorns galore: After following the rim trail and exulting over the wonders of the canyon, we headed out later that afternoon in hopes of seeing deer. During our most recent, previous visit to Bryce Canyon we saw dozens of mule deer come at of the pine trees near dusk and calmly graze in the surrounding meadows.
Strangely, we only saw three deer this time. Also earlier in the day one of my most prized memories of Bryce Canyon was watching the antics of hundreds of "chipmunks," which I believe are actually some kind of ground squirrel. They're still here, but are now only seen occasionally, one or two at a time. The National Park Service has posted signs everywhere saying people who feed these cute little creatures can be fined up to $100. The law is apparently necessary so chipmunks won't become dependent on tourist junk food instead of foraging for the regular fare they need to store in their burrows to get them through the brutal winters.
So, while somewhat disappointed with the turnout of chipmunks and deer, what are popularly called pronghorn antelope — although I now know these creatures are actually not antelope — more than made up the balance of wildlife wonders for us. They were everywhere, and so complacent in the proximity of tourists that everyone was getting good, close-up pictures, at least I did. As in other national parks, seeing lines of cars stopped by the side of the road was a tip-off that antelopes were grazing. They added a whole new dimension to our enjoyment.
Hope to come again: When we continued our journey the next morning, I couldn't help but think that Bryce Canyon is a very special place, and coming back here again felt so good that I hope to come again some day. If you've been before, you're probably like me; and if you've never been, you must see it someday. The pictures only do it partial justice.
— Story, video and photos by Mike Foley