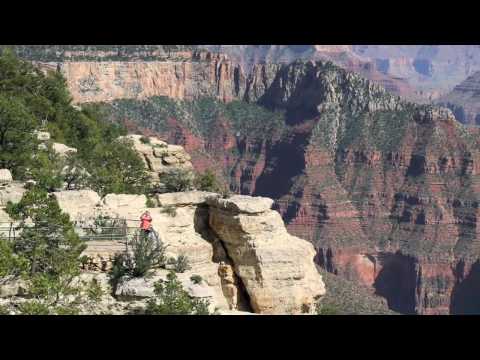 (If you do not see a video window above, go to: http://www.youtube.com/watch?v=D-R1TzA9hdw)
On the north rim of Grand Canyon
My wife and I, along with several family members, recently drove from Las Vegas to the North Rim of the Grand Canyon in northern Arizona. For me, it was the first time in over 45 years I have been there, and in some ways, it was a bit of a pilgrimage.
But first, please note the canyon itself quickly bankrupts any decent writer of adjectives: It is spectacular, awesome, inspiring . . . on and on. Those of you who have been there know what I'm talking about. The rest of you simply have to see it for yourself, then struggle to share its majesty with others.
Getting there: From Vegas, we drove on Interstate-15 through another magnificent canyon, albeit one that's much smaller — the Virgin River Gorge — en route to St. George, Utah. If you never make it to the Grand Canyon, the Virgin River Gorge gives all passengers a worthy introduction to the erosive power of tectonic shifts and flowing water over geologic eons on clearly visible, brilliantly colored strata [with a side-bar thanks to my geology 101 prof of so many years ago].
We stopped briefly at Costco in St. George to stock up our cooler — and watch as well the large numbers of senior retirees who were eating lunch there, plus a couple of FLDS women in their distinctive wardrobe from nearby Colorado City. St. George is normally just as hot as Las Vegas, so we didn't mind heading up the I-15 a few minutes later, taking Exit 16 to Hurricane, which local folks pronounce something like HER-uh-kin. The junction there with UT-59 became the first of many two-lane highways throughout the Southwest that pass along the most beautiful red-rock country in the world… Or perhaps because we live in a place famed for its own natural beauty, it's just that the starkly compelling canyonlands are so different from our own familiar surroundings that they seem so appealing.
Long ago I made the decision that Hawaii would be my home, but having grown up in Salt Lake City and spent time as a boy in southern Utah's canyonlands [while there is a Canyonlands National Park in southern Utah, my use of the lowercase 'c' here indicates the natural wonders of the entire region], the multi-hued mesas and rock formations strike a familiar chord of wonder (as in wonderful) in my heart.
Another side-note here: While we have our own slow drivers on Oahu's winding Kamehameha Highway, I had pretty much forgotten how much humbug it is to get behind slow-moving trucks and RVs [recreational vehicles], some nearly as big as their 18-wheeler cousins. Sometimes it can take miles before being able to pass.
Soon enough, however, we passed through the little town of Fredonia, Arizona, and started our climb up the Kaibab Plateau — the name a Southern Paiute word aptly meaning "mountain lying down." Pretty little wildflowers lined the road, with juniper pines at the lower level, giving way to ponderosa or lodgepole pines and quaking aspen at the higher elevations.
A little over half-way up we stopped at an overlook, where Sally purchased some handicrafts from a Navaho woman, and I became much more aware of another aspect of canyonlands that, frankly, I had forgotten: I found myself occasionally gasping for air, as the elevation at the top ranges up to 9,000 feet above sea level…while the mean elevation of my adopted home town of Laie, Oahu, is the single-digit 2. I'm not sure how long these respiratory shortcomings last, but as I write this a week after our North Rim adventure, I'm still in high-country ranging from 4,000–9,000 feet…and still gasping occasionally.
Jacob Lake: We decided to stay at Jacob Lake Inn, a colorful compound that's 7,925 feet above sea level and still about 55 miles away from the North Rim, For us, it was a good decision: We booked a quaint little cabin that slept our party of five. Pine trees came right up to the back wall, and from a little deck we watched four buzzards come and go from one of them not 50 yards away. There were also squirrels, darting finches, and crows. In fact, I got a chuckle out of two finches chasing away one of the crows, cawing in protest but fleeing nonetheless.
The Kaibab Forest right outside our cabin
On the other side of the Inn property, the U.S. Forest Service has established a National Natural Squirrel Reserve. It seems a little surreal until you see one of the seemingly tame creatures scurrying around.
As evening descends and traffic on US-89 drops to almost nothing, the wind shushes through the pines. In a word, it is western beautiful; but it's also important to remember at such an elevation that it can be quite cool at night, even in June, and down-right snowy in the winter months.
Jacob Lake Inn's dining room has a well-deserved reputation: The food is excellent, and our group thoroughly enjoyed breakfast. So did a couple of the ubiquitous bikers who were waiting for the restaurant to open that morning:
Sam and Lance are gold mining engineers from Elko, Nevada (although Sam's on leave from his work in Africa), on a 10-day cruise through the region to Taos, New Mexico, on their Kawasaki KLR650 dual-sport bikes.
"It's a good break from Tanzania," said Sam. "It was over 100 [degrees] yesterday over in Zion [National Park], and then we got up over here yesterday afternoon, and the temperature was in the 70s."
Lance, a semi-retired mechanical engineer, spends "as much time as possible exploring. I've been down in this canyonlands area quite a few times. It's wonderful for a bike. There's not too much traffic, and good camping places."
Lance also explained when hundred-degree temperatures hit bikers, "you've got to protect yourself from dehydration. I throw on lots of sunscreen, and I take a hand towel with a couple of snaps in it: I soak it in water and wrap it around my neck. It does an amazingly good job: You don't really stay cool, but you feel cool."
He added that they usually stop every couple of hours or every 200–250 miles for gas. "This whole area is a real oasis," he said. "It's well worth coming here."
The North Rim: Having arrived at the Jacob Lake junction with US 89A, the turn-off still stretches approximately 45 miles before reaching the North Rim. Of course, we went through the usual National Park Service admission booth, but there took advantage of one of the truly great bargains for senior citizens (62-and-up) — a $10 lifetime America the Beautiful pass good for almost all national parks and related places in the U.S. For example, we used the card efficiently at Bryce Canyon National Park and Devil's Tower National Monument; we just had to present a picture ID with the pass.
Otherwise, admission rates vary by location and run as high as $25 a car in some national parks. We were to later find an annoying wrinkle on this arrangement at Mt. Rushmore National Memorial, where nobody needs a pass but a vendor charges you a $10 parking fee per car. Oh well… I will add that there is actually a covered parking garage at Mt. Rushmore. And, of course, the national pass doesn't work at state parks, some of which charge their own admission fees.
The drive to the rim is simply beautiful and, closer to dusk or dawn, people are likely to see deer and pronghorn antelope in the many roadside meadows. Technically, pronghorns are not antelopes, but that's what we always called them. We also saw a few miles of blackened ponderosa pines and aspens spiking into the sky, their branches and leaves burned away in some previous forest fire; but the abundance of many more miles of natural beauty quickly lifted our spirits again.
The north rim of Grand Canyon from Bright Angel Point
It wasn't until we had almost arrived at the Grand Canyon Lodge that we got our first glimpse of the red-rock walls peeking through the trees. We quickly found a parking spot — one of the advantages of the North Rim, where far fewer people visit than on the South Rim side. A rim trail runs for miles and provides spectacular views at every turn.
We chose the short half-mile turnoff to Bright Angel Point, dropping down the canyon wall a few hundred feet on a paved path along the spine of a promontory. There are few safety barriers, giving most parents with small kids conniptions… but the view at the end was truly magnificent and worth the effort (I've already mentioned the gasping; it took me a bit of that to get back up to the rim).
The pilgrimage: Bright Angel Point was the perfect place for me to tell my grandson, Jordan Cordes, about my experience almost 50 years ago when three friends from Bonneville Ward and I drove down from Salt Lake City one afternoon. I'm not sure why they took me, as I was two years younger than them — a big gap at that age — but they were great young men who each went on to become a medical doctor.
By the time we finally reached the totally dark Kaibab forest, we pulled off the road and slept in our sleeping bags. The next morning we drove on to the North Rim, where we met a few friends who were working at the lodge. They directed us to the Bright Angel trail — the same one used by the famous mule tour — where we proceeded to hike along the switchbacks more than 4,000 feet to the bottom of the Grand Canyon. It was hot and dusty, and the mules had the right-of-way when we encountered them.
The good news is Bright Angel Springs, which pour sweet-water out of the canyon wall near the bottom and form a stream along the rest of the trail for the next 15 miles to the Phantom Ranch guest accommodations and the Colorado River. We needed that stream badly, as the temperatures that day reportedly hit almost 120 degrees on the canyon floor.
Although we again camped in a sandy area by the Colorado River, the guest accommodations at Phantom Ranch in those days included a swimming pool fed by Bright Angel Creek, but by the time we hopped in our muscles had cooled, and at least one of us got a major case of cramps in the cool water.
The next morning we got up early and did it in reverse, the last 5,000 feet up the wall of the canyon, of course, being the hardest.
Bright Angel Point lookout at the north rim of Grand Canyon,
near the trail to the bottom.
Many people will tell you they've hiked to the bottom of Grand Canyon, but most of them do it from the South Rim, where the beginning elevation at about 6,000 feet is 2,000 lower than the North Rim; also, the six-mile trail to the river is less demanding and not even half the length of its Bright Angel counterpart.
Hiking there those two days, all those years ago, was an unforgettable experience for me…as was returning to the North Rim in June 2010 for the first time since that youthful adventure.
Aloha from the North Rim, Grand Canyon
I wish I could have walked back up from the Bright Angel overlook as strongly as I did from the bottom of the canyon years ago; but I'm thrilled to be back in this absolutely beautiful country — so different from my adopted home for the past 45 years.
— Story, video and photos by Mike Foley (June 2010)