I experienced a brief moment of cultural serendipity when a number of Fijian and Tongan women performed a Fijian coming-of-age ceremony for several young women before they performed in nearby Kahuku High's "May Night" program. The young women came on stage wrapped in traditional masi or bark cloth, which their older relatives unwrapped, before the girls danced a Fijian meke with their classmates.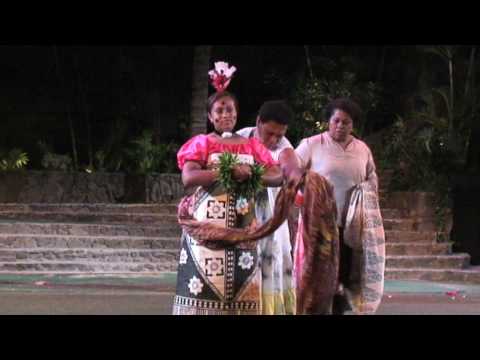 If your web browser doesn't show a video window above, go to:

They have a good time, too, but I'm talking about deeply significant ceremonies and events that people from the Center and surrounding communities have put on over the years — both on the grounds and other places — such as respectfully greeting the King of Tonga and other royals from there, staging a royal kava ceremony for the head of state of Samoa, properly welcoming the prime minister of Fiji, greeting traveling Maori groups from New Zealand on our marae, presenting island gifts to presidents of The Church of Jesus Christ of Latter-day Saints, and filling requests to share appropriate Polynesian protocol for various ceremonies including the inauguration of the governor of Hawaii. These are just a few of many such instances.
In terms of Polynesian ceremony, this Fijian one only lasted a few minutes…whereas I've been to functions at the PCC and in the South Pacific that went on for hours, indeed even for days in some cases. Depending on the situation, these were sometimes set off with kava ceremonies, speeches, feasting and lavish gift giving.
Kahuku High students perform a Fijian dance during their
"May Night" program on April 29, 2010, on the
Polynesian Cultural Center stage. 
In this case, the Kahuku High program soon went on, but I'm grateful for my own measure of understanding into the significance of such things…and the years I've been here to enjoy and appreciate them.
— Video and photo by Mike Foley